Miss Torrey, our 5th Grade Main Class Teacher, shares the experiences of her class at their recent Catalina camping adventure:
What an amazing trip we had to Catalina!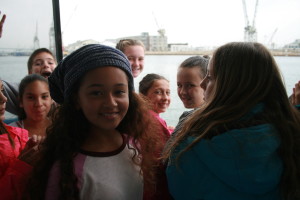 On the Catalina Express Ferry over, students enjoyed the salt spray made by the ship's wake as well as the sight of flying fish and dolphins jumping behind and alongside the ferry.
When we arrived at Howland's Landing, we received a warm welcome from CELP (Catalina Educational Leadership Program) staff. They directed students to unload their luggage from the ferry and then they gave us a tour of the camp facilities that we would call home for three days.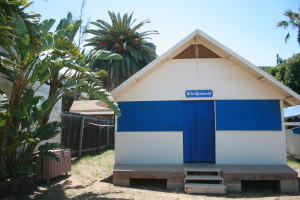 Our boys stayed in Hurricane and Monsoon cabins positioned alongside the soccer field and hiking trails and our girls stayed in Windjammer and Yawl cabins resting alongside the sandy ocean shoreline.
Our first activity of the day was a daytime snorkel along the cove. As students were sized for wet suits, hoods, snorkels and fins their excitement grew! When we were finally equipped and ready to get into the water, students soon realized that snorkeling in the ocean was very different from snorkeling in their pool. They were taught various maneuvers in the water to ready them to swim out to sea. Here, students had their first opportunity to explore the underwater Eco-systems of Catalina. Gazing into the water we saw among the kelp beds: Garibaldi fish, stingrays, and schools of iridescent blue fish. Nicholas looked up at me and said, "I never imagined so many fish would be swimming beneath us!" It was an incredible experience!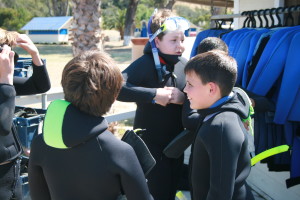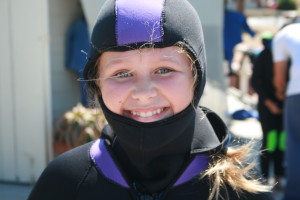 When we got back from our snorkel, students were ready for a little free time on the island. Some went down to the beach to enjoy the sun and look for shells while others enjoyed the multitude of sports offerings including: soccer, tennis, volleyball, basketball, gaga ball and handball.
After dinner that night, we met at the dive deck to suit up again for our nighttime snorkel. This time, we got to use underwater flashlights to look for lobster, horn-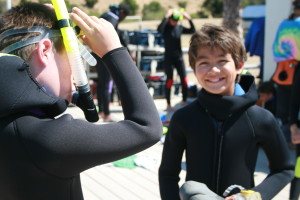 sharks, bat rays, and other nocturnal creatures in the cove. Under starry skies, we were able to look down and see the amazing bio-luminescent plankton glitter around us.
The night snorkel was a favorite of the students and a once-in-a-lifetime experience they will remember for years to come! We came back to the dive deck for a much appreciated steaming cup of hot cocoa followed by warm showers and bedtime. Nestled snug in our sleeping bags, we would fall asleep to the sound of the ocean waves crashing on the shore.
Our second day on the island began with a rock climbing wall that every student and chaperon courageously climbed. Every person set their own personal climbing goals and then donning harnesses, they challenged themselves to meet their goals. The students really encouraged and supported one another in this activity.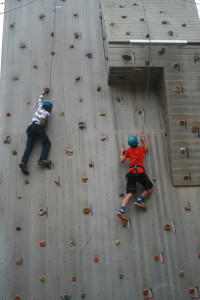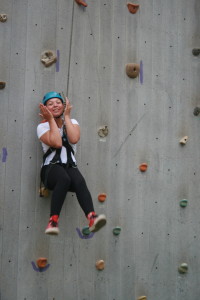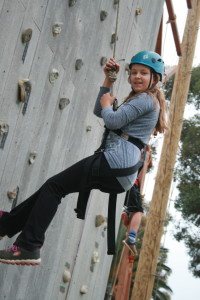 After our rock-climbing challenge, we went for a kayak around the cove. Paddling our kayaks and exploring the island was one of my favorite adventures of the trip. We got a closer view of the coastal plant and animal life when we gazed down into the water from our kayak. At the end, the students got to jump from their kayaks and take a swim in the icy ocean waters. One student swam up with a piece of fresh kelp seaweed that was eagerly divided up and devoured by the rest.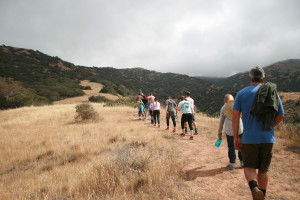 Following lunch, our class divided up into their smaller activity groups to hike the hillsides of Catalina. Here, we learned about Catalina's dynamic landscape and enjoyed great views of the island and ocean. As a whole class, we returned to the hillsides to hike that night. This is when we spotted the Catalina Island fox, a nocturnal creature that has adapted to life in the dark. The fox was creeping toward the dining hall to scavenge scraps from dinner. It sauntered slowly enough that some of the students were able to snap a photo of it. What a great start to our night hike! This hike was a new experience as the sun had set and the full moon shone above us. We hiked to a viewpoint where we were able to see San Pedro Port lit up across the ocean. We turned our flashlights off and gathered white quartz from the trails. Students learned to strike the two pieces of white quartz together to create a spark and give the rock a red glow. I believe it was with great sadness that students went to bed that night knowing it was their last night on the island.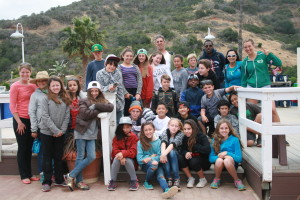 Our final day on the island proved to be a very relaxing one where students learned about composting, organic gardening, and other sustainable practices while touring the Howland's Garden Project.
This experience made us feel as though we were back at Journey School working with Earthroots. I felt very proud of the composting and gardening experiences the students had and were able to share with the CELP staff.
We had the adventure of a lifetime–one I believe the students will remember and talk about for years to come!
Thank you for supporting Journey School's Exceptional Experiences!
Warmly,
Miss Torrey