Highlights of Close the Gap:
Journey School offers a unique educational program that honors your child's yearning for relationship and purpose.
Journey School educates students in the best of the renaissance tradition, where all disciplines are imaginatively woven together to inspire each student.
 The renaissance education offered at Journey School is a bargain compared to many other schools.
We provide superb class sizes, a nurturing campus environment, well trained teachers, a robust specialty and arts program, high-quality student supplies, and a rigorous curriculum tailored to challenge your child as they come of age.
Private schools charge upwards of $15,000 per year in order to cover the costs of a Waldorf educational program.
Charter schools, on the other hand, are funded through public funds and receive only $7,000 student annually.
This equates to a PER STUDENT funding gap of approximately $5,000 to $10,000. We ask that you help us "Close the Gap" between the cost of our priceless education and the amount of revenue received from the state.
All gifts are voluntary, confidential, and have no bearing on your status in the Journey School Community.
Please give generously. For some, that may mean $10.00 a month—the cost of coffee. For others, it may mean $10,000 a year.
By the Numbers (February 2013 Update)
The purpose of the Journey School Foundation is to secure new funding from outside the school community.  This revenue will finance an exemplary 21st Century education for our children as well as bold goals, most notably a permanent campus.
But, did you know that donors consider the percentage of families who contribute to the Close the Gap Annual Fund before making a gift? Typically, donors' trust in the school increases when they see a family participation rate of 90%.
Thanks to you 180 Journey families, or 68%, have pledged approximately $200,000, and the fund has received nearly $100,000. Although it hasn't been easy, your generosity has allowed us to maintain a rich array of specialty classes, excellent student-teacher ratios, and enhanced middle school offerings.
If you have not yet made your 2012-13 donation we ask that you do so today. Every pledge, no matter the amount, has a direct impact on students.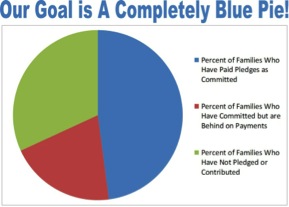 You may contribute online, or in person by contacting Cindy at (949) 448-7232 (x 3).  All gifts are strictly confidential.
Please contact Journey School Foundation (development@journeyschool.net), to introduce the school to potential donors and Community Partners (friends, family, corporations, or philanthropic foundations).
Engage a wider community in Journey's vision and accomplishments