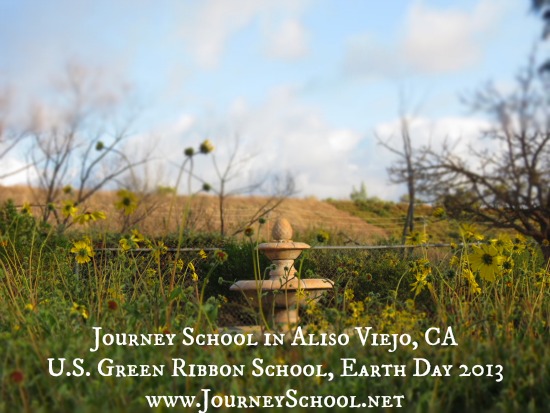 April 22, 2013
Today, appropriately as Earth Day is celebrated, U.S. Secretary of Education Arne Duncan, along with the Chair of White House Council on Environmental Quality Nancy Sutley and Acting Administrator of the Environmental Protection Agency Bob Persiacepe, announced that Journey School in Aliso Viejo, is among the 64 second annual U.S. Department of Education Green Ribbon Schools.  The selected schools are being honored for their exemplary efforts to reduce environmental impact and utility costs, promote better health, and ensure effective environmental education, including civics and green career pathways.  In addition, 14 districts were honored for the first-ever District Sustainability Award.  Duncan, Persiacepe, and Sutley made the announcement at Mundo Verde Bilingual Public Charter School, in Washington, DC, one of the 2013 honored schools.
Journey School was nominated by the California Department of Education for the school's innovative curriculum including an Eco-Literacy program that teaches topics such as soil building, gardening, composting, biology, water conservation, rainwater harvesting, native and indigenous plant studies, permaculture principles and eco-leadership. Journey School, which serves kindergarten through eighth grade students, also has five gardens or "living classrooms" where age-appropriate planting, harvesting and special projects take place.
"We couldn't be more proud to be the first Orange County school to be honored with a Green Ribbon Award," said Shaheer Faltas, Journey's Executive Director. "Journey's founding charter states our ecological goals of environmental education, stewardship and civic responsibility be infused in all aspects of learning and living. This award recognizes the hard work and dedication by our teachers, parents and of course the students in creating an extraordinary learning environment."
The school was confirmed from a pool of national candidates voluntarily nominated by 32 state education agencies.  The list of selectees includes 54 public schools and 10 private schools.  The public schools include seven charter, five magnet and four career and technical schools.  The schools serve various grade levels, including 40 elementary, 23 middle and 19 high schools are among them, with several schools having various K-12 configurations, from 29 states and the District of Columbia.  Over half of the 2013 honorees serve a student body more than 40 percent of which is eligible for free and reduced price lunch.  The list of all selected schools and districts, as well as their nomination packages, can be found here.  A report with highlights on the 78 honorees can be found here.
"Today's honorees are modeling a comprehensive approach to being green," said Secretary Duncan. "They are demonstrating ways schools can simultaneously cut costs; improve health, performance and equity; and provide an education geared toward the jobs of the future. In fact, the selected districts are saving millions of dollars as a result of their greening efforts. And the great thing is that the resources these honorees are using are available for free to all schools."
"Preparing students for success in the 21st century economy begins in our schools. The schools and districts being honored today are modeling the best practices in reducing environmental impact and cutting costs, creating a healthier learning environment, and providing students with an education geared toward the jobs of the future," said Chair of the White House Council on Environmental Quality Nancy Sutley.
"EPA is proud to join the Department of Education in recognizing our nation's U.S. Department of Education Green Ribbon Schools for their remarkable efforts to create healthier learning spaces and educate students on the importance of environmental protection," said EPA Acting Administrator Bob Perciasepe. "U.S. Department of Education Green Ribbon Schools are not only cutting costs thanks to energy-saving practices and use of more efficient technology, but they're also reducing instances of pollution-related illnesses like asthma, a leading cause of student absence. The students who attend these schools are better prepared than ever to become the next generation of environmental stewards and bring about a healthier, more sustainable future."
The U.S. Department of Education is looking forward to a third year of the program, and will be publishing updated competition criteria this summer, once again working closely with participating states, who nominate both schools and districts to the federal agency.  State education agencies are encouraged to indicate their intent to nominate schools and districts within their jurisdiction in 2014 by August 1, 2013.
More information on the federal recognition award can be found here.  Resources for all schools to move toward the three Pillars in which the 2013 honorees are exemplary can be found here.
About Journey School
Journey School is a free, public Waldorf Charter school. Since its inception in 2000, Journey School has been committed to teaching and implementing innovative environmental education and sustainable practices campuswide. Journey School is located at 27102 Foxborough, in Aliso Viejo and can be reached at (949) 448-7232.  For more information, please browse this website and visit our Eco-Literacy pages.
MEDIA CONTACT FOR JOURNEY SCHOOL:  Jane Gillespie Public Relations (949) 733-2198