June 2016
Salamu (Greetings) from the Creative Education Foundation of Zanzibar (CEFZ)!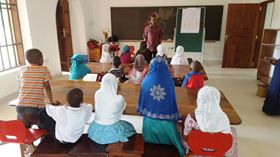 As Journey School's year ends I wanted to share with you a few highlights from my seven weeks of mentoring at CEFZ while Tim took over as full-time Education Director at Journey….
This little four-year-old Waldorf school, on the island Unguja off the coast of Tanzania, is an amazing haven for the children it serves. More than half of the population of Zanzibar lives below the poverty line and the school, whose mission is to "provide a quality education alternative to Zanzibar's orphans and children from low income backgrounds, whilst building the capacities of local teachers," is sorely needed.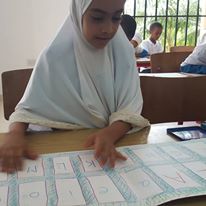 Though tiny, the school is mighty! I have been so impressed at how diligent and enthusiastic the teachers of CEFZ are and how excited the 60 students enrolled in grades 1 through 4 are to learn through the arts. Each morning as all the children and teachers gather together to say the morning verse and sing "Morning has come, night is away, rise with the sun and welcome the day," I smile as I think of the Journey students and teachers doing the same ten hours later! As I have joined the classes in painting the rainbow, knitting their dolls and learning the 6x table through geometry, to name just a few Waldorf gems, and sit down with the teachers to discuss temperaments, storytelling and how to teach fractions by making pizzas (!), I feel so blessed to be a part of this worldwide movement of education.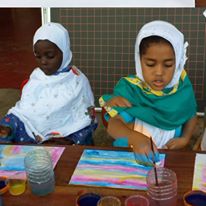 I invite you to learn more about the school at http://www.cefzanzibar.com and follow it on Facebook at Creative Education Foundation, Zanzibar. I will be back at school during the last week to say goodbye to the students and share my experiences with the children here and some of my adventures around the island (monkeys, dolphins, coral reefs!) with them!
Lastly, I wanted to let you know that I will return to CEFZ in the fall to continue mentoring and am so happy that Tim will be joining me in the experience. We feel blessed to have been a part of Journey School these past two years and will miss your children, our dear colleagues and you!
My best,
Patti Connolly