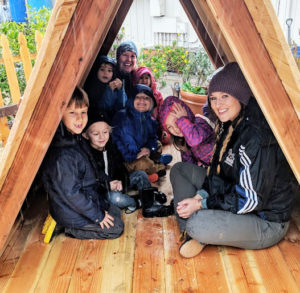 Information Session:
August 24th @ 10:00 a.m. – R.S.V.P.
Journey School's Independent Study is a free, voluntary educational program that gives parents the opportunity to educate their child from home with professional guidance from a Waldorf-certified and CA credentialed supervising teacher. Curriculum, high-quality materials, and one-on-one support are provided to assist parents with instruction to help ensure student success. Independent Study is currently being offered to students in kindergarten through 4th grade.
Our Independent Study Program offers home-based and hybrid classes. For the 2018-2019 school year, there will be a hybrid outdoor kindergarten and a hybrid grades (1-4) option.
The home-based students come on-campus twice a month to meet with their Waldorf-certified and CA credentialed supervising teacher. Home-based students will also receive an annual stipend to use to support their educational experience.
The hybrid outdoor kindergarten program allows children to participate in cooperative activities 3 days a week. Students engage in morning song, poetry, movement, nature walks, creative play, nature-based crafts, snack time, and story. Parents may drop off or stay for the day and younger siblings are welcome to come with parents.
The Hybrid Grades 1-4 Class will meet twice a week where they will receive specialty classes such as handwork, Spanish, games, music, art, or eco-literacy. The days and times will coincide with our Hybrid Outdoor Kindergarten to support families with siblings.
Independent Study students have monthly socializing opportunities. We all come together to participate in school-wide festivals, field trips, crafting days, park days, and holiday parties. We have a strong, welcoming community at Journey School. We value connection and see how children thrive when supported by a loving community.
Journey School also supports Independent Study families with monthly curriculum nights, a summer workshop, a resource library, access to other parents in the program, andan experienced supervising teacher who is state credentialed and Waldorf certificated.
Please attend our Information Session on Friday, August 24th from 10:00-11:00 a.m.
Contact Amanda Simmons at amandas@journeyschool.net for more information or to RSVP.
2018-2019 School Year
Applications are now being accepted for the 2018-19 school year. Before we can accept an application, a parent must attend an information session. If you are unable to do so, please contact Mrs. Simmons at the email above.
Meet the Teachers: